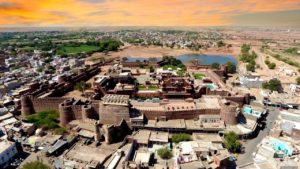 The Fort of Pokaran also known as 'Balagarh' is situated in the Thar Desert, built by the clan of Rathores in the rare yellow sandstone. It lies in the Marwar city of Jodhpur and its history dates back to the 14th century. This fort comprises of many other significant establishments like Hawa Mahal, Mangal Niwas, Phool Mahal, etc.
Presently, the fort belongs to Thakur Nagendra Singh Pokaran and his wife Thakurani Yashwant Kumari Pokaran that have opened it to general public by turning it into a heritage hotel. This hotel offers royal accommodations to the travellers complimented by an on-site restaurant serving a variety of culinary cuisines. The original structure of the place as a fort has ornamentally carved walls of red and yellow sandstone combined with traditional 'jharokas', turrets and parapets of the Mughal architecture. Main hall of the fort known as the Mangal Mahal has four protruding octagonal Jharokas.
Other attractions of this fort includes a Durga temple along with a museum comprising of a wide variety of artifacts of the ancient era along with many mural paintings, armory, handicrafts, costumes and pottery items of the erstwhile kings. The fort also houses a grand library known for its collection of classic books providing information about the great " Rao Bahadur Rajshree Thakur Chain Singhji Pokaran". He was said to be the most learned Rajput of his times and a book dedicated to him called the "Who's Who of India" of the 1946-47 edition, is also available in this library.